ES (Extended Scrubbing) - återvinner vattnet
Tennants ES (Extended Scrubbing) teknologi återvinner vattnet och doserar kemikalier för att öka städtiden
How It Works – ES® System
The ES® option on a Tennant scrubber enables customers to scrub continuously for upwards of 3 hours, non-stop, on a single tank of solution. By utilizing this feature customers:
Reduce the amount of non-productive time wasted emptying/refilling the machine.
Cut detergent COSTs.
Limit water consumption and associated costs of disposal.
This option prolongs the amount of time an operator can scrub by simply filtering and re-circulating the detergent and water solution. The benefit of this is that unused detergent is brought back into the solution tank and is dispenses back onto the floor to be used again.
Prior to starting to use the machine, the operator fills the entire solution tank and slightly over half of the recovery tank with fresh water. Detergent is added to the correct dilution in the solution tank, or in machines with the detergent injection system, the detergent tank is filled and detergent switch turned on.
The water and detergent are dispensed onto the floor and the stains and soilage is scrubbed with the brushes to clean the floor.
All loosened soilage and dirty water is then vacuumed-up from the floor by a powerful vacuum, fan and deposited into the recovery tank. This is a critical step in the recycling process. The advanced parabolic squeegee and superior vacuum system that we have removes all water and leaves the floor virtually dry. Other brand scrubbers with out such an efficient vacuum system could leave behind a residue of dirt-laden moisture on the floor…which will dry afterwards into a still dirty floor.
Once in the recovery tank, heavier soilage falls out of suspension and onto the tank floor. A recycling pump then pulls the solution through a fine-mesh, canister-type filter, further trapping dirt particles, before pumping it back into the solution tank. This solution contains unused detergent which is then put back onto the floor for reuse.
Should they wish to return to a conventional scrubbing mode, operators can disengage the ES® function by simply turning-off the ES switch at any time.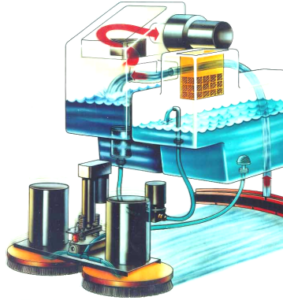 ---